WKU ART Alumni
Call for Art
If you are WKU Art Department Alumni (both major and minors eligible), we invite you to submit ONE piece to be showcased in a group exhibition happening January 27 - February 27 in FAC Main Gallery.
Corridor Gallery
September 20 - October 28
This group exhibition features prints from the WKU Art Department Print Collection.
Curated by Victoria Layne.
S. Shockley, B.C., Laura Ford, Kembre, Mark Stivers, Mike Bratcher, Lauren White, Matthew London, Jeff Quin, Amy Wallace, N. Hunt, Robin Ghaffin, Kristen Wells, Michael Steele, Kent Workman, Beverly Porter, Joe Werth, Scott Etterman, M. Reel, M. Day-Hutson, Michael Gray, Allen Polk, George Vitorich, Sherry Churnsby, S. Bender, Barbara Fugate, Aaron Clark, Wes Paul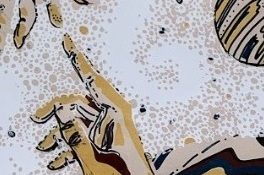 Provost Suite Print Exhibition
Wetherby Administrative Building 239
WKU Main Campus
The prints exhibited throughout the Provost's suite, were created by WKU Art Department students in courses with Printmaking professor Marilee Salvator. This exhibition was curated by Victoria Layne, WKU Art alumna and Art Gallery Manager, and installed with assistance from the WKU Kentucky Museum.
Installed March 29, 2019.
The String Project at Jennings Creek Elementary
Jennings Creek Elementary School library
Bowling Green, Kentucky
The Cuba Amor Exhibition travelled to KSU and is now on display during their fall 2019 semester as part of the "Year of Cuba" program.
The team behind the "String Project" returned to WKU for multiple events.
WKU Computer animation
Congratulations to all of our official selections of The 2019 Autumn shorts film festival.