National basketry organization "More Basketry" Exhibition
Main Gallery
July 17-19
Reception will be held July 17 from 7 pm until 9 pm in Main Gallery.
About national basketry organization
The National Basketry Organization (NBO) is a non-profit organization that unites people interested in basketry to provide education and to promote basket making. Founded in the late 1990's, the organization now has over 650 members, most of whom live in the United States and Canada. Although most of NBO's members are basket makers, membership includes collectors, gallery owners, scholars, craft and art schools and museums.
The 'more basketry' Exhibition features work from the following:
Bob Darchi, Dorothy McGuinness, Sue Van Wassenhove, Jill Green, Jennifer Tang-Limon, Jackie Thomas, Toni Best, Kathi Klopfenstein, Norman Sherfield, Joe Van Wassenhove, Jean Poythress Koon, Karen Gubitz, Pat Moritz, Linda Harvery, Barbara Sox, Bonnie Geiger, Beth Hester, Jo Campbell-Amsler, Katherine Lewis, Ariene Eubaks, Judith Saunders, Poppy Hatinger, Annetta Kraayeveld, Anne Bowers, Judy Hughes, Jennifer Heller Zurick, Amanda Salm, Barbara Shapiro, Mary Ann Smith, Emily Dvorin, Lynne Ferguson, JoElla Manning, Leona Waddell, Scott Gilbert, Lynne Dees, Marilyn Moore, Barbara Osbourne, Kadey Ambrose, Barbara Holt, Karen Woods, Nolan Wright, Elizabeth Runyon, Pam Saint-Pierre, Cael Chappell, Page Candler, Dana Bennett, Eugenia Gwathney, Jan Thomas, Judy Robelotto, Lissa de Sailles, Mary Thompson, Sharon Stafford, Peggy Wiedemann, Martin Wice, Betty Kagan, Kimberley Harding, Charissa Harris, Vicki Hast, Elise Thornton, Jackie Abrams, Sally Turner, Bryant Holsenbeck, Cricket Rose, Debbie Johnson, Jeanne Flanagan, Fern Benson, Johanna Guccione, Paul Klopfenstein, Linda Scherz, Martha Bird, Sandy Abrams, Ellen Solari, Nancy Bindig, Lynn Rosenberg, Leon Niehues, Polly Jacobs Giacchina, Lynette D Youson, Billy Ray Sims, Jeanenne Wilcox, Willie Zeigler.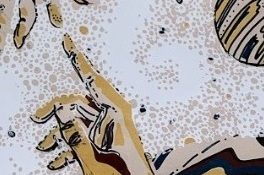 Provost Suite Print Exhibition
Wetherby Administrative Building 239
WKU Main Campus
The prints exhibited throughout the Provost's suite, were created by WKU Art Department students in courses with Printmaking professor Marilee Salvator. This exhibition was curated by Victoria Layne, WKU Art alumna and Art Gallery Manager, and installed with assistance from the WKU Kentucky Museum.
Installed March 29, 2019.
The String Project at Jennings Creek Elementary
Jennings Creek Elementary School library
Bowling Green, Kentucky