ArtWorks 12th Annual Members Only Art Exhibition
Main Gallery
May 31 - July 8, 2019
Reception will be held May 31st from 5 pm until 8 pm in Main Gallery.
About artworks, inc.
Our Mission:
ArtWorks: A Visual Arts Coalition is a 501(c)3, non-profit organization of artists, patrons and supporters dedicated to creating a sustainable art community by increasing visibility, vitality and economic growth for the visual arts.
Our Vision:
ArtWorks: A Visual Arts Coalition will be a driving force in the Bowling Green, Kentucky area.
We will actively participate in our community while promoting, protecting and preserving the vitality and visibility of the visual arts. ArtWorks will commit to empower visual artists through financial support, exhibit opportunities and professional seminars We will educate the community and its leaders and policy makers on the economic benefits gained by enhancing our local culture through the works of visual artists.
As an organized body of visual artists which took root from the seeds of philanthropy, ArtWorks will pursue strategic investments and partnerships in projects and initiatives that inspire visual artists to imagine new horizons and to create new visions that will catalyze the cultural arts movement in our community.
ArtWorks will become the voice of leadership for the visual arts.
The ArtWorks Exhibition features work from the following:
Maya Arb, Nancy Azneer, Julie Barrick, Carla Clauschee-Black, Steve Clay, Barbara DeGraves, Myra Dwyer, Matthew Fleischman, Jill Gentry, Lora Gill, Lynette Frey Haggbloom, David Marquez, Megan McChrystal, Suzanne Menck, Leslie Nichols, Michael Nichols, Brent Oglesbee, Holly Oglesbee, Neil Peterie, Sheila Reeves, Alan Reeves, Claude Robertson, Lynn Robertson, Donna Schulte, Lorie Short, Diane Simmons, Terry Tatum, Peg Truman, Jared Weaver, Lana Williams, Janet Young
Awards:
Best of Show - "Time and Space", Lorie Short
1st Place - "Just Chillin'", Donna Schulte
2nd Place - "Filter", Brent Oglesbee
3rd Place - "Still Water" - Nancy Azneer
Merit Award - "On a Higher Plane", Steve Clay
Merit Award - "Peonies", Nancy Azneer
Merit Award - "The Siblings", Lynette Frey Haggbloom
Honorable Mention - "Watercolor Wood Duck", Julie Barrick
Honorable Mention - "Spring in Kentucky", Lorie Short
Honorable Mention - "Roses and Spoon", Diane Simmons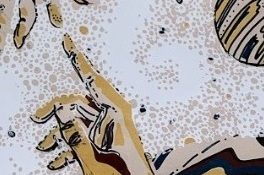 Provost Suite Print Exhibition
Wetherby Administrative Building 239
WKU Main Campus
The prints exhibited throughout the Provost's suite, were created by WKU Art Department students in courses with Printmaking professor Marilee Salvator. This exhibition was curated by Victoria Layne, WKU Art alumna and Art Gallery Manager, and installed with assistance from the WKU Kentucky Museum.
Installed March 29, 2019.
The String Project at Jennings Creek Elementary
Jennings Creek Elementary School library
Bowling Green, Kentucky